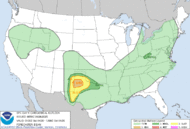 Here's the Severe Risk maps for today, tomorrow and Saturday.  There's a rare HIGH RISK of severe storms and tornadoes in parts of Kansas and Oklahoma today.  This is the 4th day with a High Risk Area in 2017.  We did not have ANY days with a High Risk in 2015 or 2016.  The Slight Risk is southeast of Branch County and the Marginal Risk is southeast of a line from Chicago to Lansing.  This PM, Lower Michigan is in the Marginal Risk,, with the Slight Risk east of us toward Cleveland and Buffalo and a Moderate Risk in the Plains, where there will be tornadoes once again.  Friday the storms will be south of Michigan and we will be dry.  Pic. above is the Muskegon Channel at 10:20 am with the Lake Express Ferry heading out to Milwaukee.
There was a gust to 60 mph at Big Sable Point near Ludington, with several gusts to 40-45 mph at Holland and Benton Harbor.
High temps. Weds.:  87 Lansing, 86 G.R., 85 Ionia, 84 Kalamazoo, Battle Creek, Jackson, Mt. Pleasant, 83 Fremont, S. Haven, Coldwater, 82 Sturgis, 81 Big Rapids.  It was 89 at Alpena, 69 on Mackinac Is., and 50 at Big Bay in the U.P.  Rainfall in the U.P.:  1.81″ Wausaukee, 1.80″ Iron Mt., 1.50″ Copper Harbor, 0.89″ Munising.  Virga this AM in G.R.
Water temps. at noon:  65 Reeds Lake in East G.R.,, 51 S. Haven Buoy,, 50 Port Sheldon Buoy,, 43 Ludington Buoy.
Long-range outlook for next week:  Cooler than this week with most days having high temps. in the 60s (average high now low 70s).
Also:   Big snowstorm for the Rockies.  Snow down into Denver.  Arctic temperatures cooler than average last 3 weeks…were warmer than average last winter, but still well below freezing.  Satellite view of storms "blowing up" over the Plains yesterday.  Record late season ice cover off Newfoundland – and ice swirls.  McLean TX tornado yesterday.  Weakening trend to solar cycles since 1980.  Snow this AM in Montana.  Snow this AM in Utah.  UK unemployment rate falls to 4.6% — lowest in 42 years.