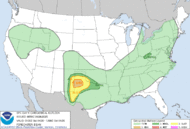 There is a rare HIGH RISK for tornadoes and severe storms in the Plains States this evening and tonight. This is the 4th day with a High Risk in 2017. We did not have a single day with a High Risk in either 2015 or 2016.  Pic. is Chetek WI tornado damage from a Tues. PM twister.
 As of 9:25 pm, there are 4 tornado watches and one severe t-storm watch from NW Missouri to Texas. One of the watches is a PDS tornado watches (Particularly Dangerous Situation). There is also a Severe T-Storm Watch for Vermont, much of New York and a small part of N. Pennsylvania.  You can follow severe reports here.  As of 9:25 pm, there have been 16 tornadoes in the Plains and 290 severe weather reports, including baseball-sized hail.
Tomorrow should be another big severe weather day in the Plains with a large Enhanced Risk Area from Kansas to N. Texas.  Saturday PM, the Marginal Risk (dark green, right map) comes up into extreme SW Michigan.
Also:  Cooler than average temperatures for much of the U.S., including Michigan for the rest of May.