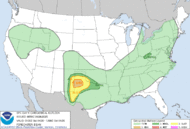 These are the Severe Weather Outlook maps for today , tomorrow and the next day. We'll still have a chance of a shower or t-storm.  Here's Milwaukee Radar.  As I write this shortly after 1 pm.  We have south winds south of US 10 and east winds north of US 10 – so that's where the air is lifted and that's where there's a bunch of t-storms.  There's a cool front cutting thru Central Wi and there are showers and a few storms ahead of that in far SE Wisconsin and N. Illinois.
SPC does not anticipate issuing a watch for Michigan at this time.
  A Flood Watch remains in effect through Thurs. AM for Ottawa, Kent, Ionia and Clinton Counties south.  Benton Harbor had 1.39″ in an hour Weds. AM and Holland had 1.05″ in an hour.  Flood Watch through Thursday AM.  Other rainfall totals:  0.30″ G.R., 0.65″ Lansing, 0.96″ Kalamazoo, 1.03″ Battle Creek, 2.21″ O'Hare in Chicago, 2.29″ Benton Harbor.
8.05″ Burlington WI, 7.75″ Boener's Lake WI, 7.60″ Lake Geneva WI, 7.54″ Paddock Lake WI, 7.13″ fell this AM at Round Lake Park IL.  My sister-in-law's sister lives on the lake…said the water level has risen over the piers and up to the road – highest level she can remember.  6.72″ at Rochester WI,  Mundelein IL had 6.75″ of rain this AM. 6.52″ at Hales Corners and Muskego WI.  My brother's basement has flooded in Deerfield IL.
  This is Storm Total Rainfall off the Chicago (Romeoville) radar…showing a maximum of around 10″ in Lake and McHenry Counties in far NE Illinois
Miami FL had 5.1″ of rain in 3 hours.
I'm in Knoxville TN – staying at an airbnb for several days celebrating my mother's 98th birthday party.  My brother and his wife are here.  My brother made an awesome salmon dinner Tuesday evening.  He's become an expert on Michigan craft beer.  He said he loves them all.  This time he mentioned Latitude 42 out of Portage Michigan.  I'll try and check in to see what's going in Michigan…but yesterday (Weds.) was the big party day here.  I think it's the first time in about 6 years that my brother, sister and I have been together at the same time.   At 3 pm Weds. – it was 90 deg. in Oak Ridge with a 70 dewpoint – the wind was just 5 mph and the Heat Index was 95.  Knoxville had a high of 91 and a low of 68.  The average high/low is 88/69.
Regional and local radar maps should update automatically.