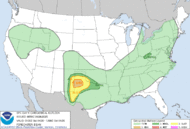 These are the Severe Weather Outlook maps for Day 1 (Sun.), Day 2 (Mon.) and Day 3 (Tues.).   Today (Sun.) the Marginal Risk is southeast of a line from Sturgis to Jackson to Port Huron.. The most likely areas for showers and storms to develop this PM are east and southeast of Michigan in Ohio and Ontario.  We should be dry this PM thru Tuesday. 

This was the Muskegon Channel at 4:22 pm Sat. – pretty busy!  High temps. Sat:  80 Kalamazoo and Battle Creek, 79 G.R., 76 at the airports in Muskegon and Holland , 72.9 at the S. Haven Lighthouse and 71.6 at the Muskegon Channel – so it was cooler near Lake Michigan.  Across the lake, the high was 83 at Green Bay and 89 at Eau Claire – hotter there.  The air was more unstable and that's where the t-storms were Sat. PM/night.
  This is storm total rainfall for Sat./Sat. night.  The significant rain was mainly on the other side of Lake Michigan.  The "rain" around G.R. isn't rain on this graphic, but there was a small shower/t-shower in Mecosta Co. and a few other showers north of a line from Saginaw to Greenville to Ludington.  Agricultural weather stations at McBain and Manton each had 0.01″ of rain.  Across the lake, Green Bay had 0.87″ of rain – all coming in one hour.
Here's the S. Haven Channel Sat. PM – lots of boats and pier-walkers.  Water temps Sun.: 66 Muskegon, 68 Holland, Saugatuck and Mears and 70 S. Haven, 78 Reeds Lake.  My wife, our friend Lorraine (visiting from Australia) and I rented a paddleboat at Millennium Park and paddled around the lake for nearly an hour and a half Sat. PM – lots of people enjoying the beach and park.
Here's severe weather reports from Sat. and Sat. night.  Over half a dozen hail and wind reports on the other side of Lake Michigan. A fair number of wind damage reports from the Carolinas…a few wind damage reports in Arizona. Two small tornadoes in SE Texas and SW Louisiana.
Regional and local radar maps should update automatically.
Also:  Hurricane Fernanda way west of Mexico and no threat to land.  While we are ~25% of the way thru the Atlantic hurricane season in terms of days, approximately 95% of all hurricanes historically form after July 15.  Rare July snow in N. Quebec!